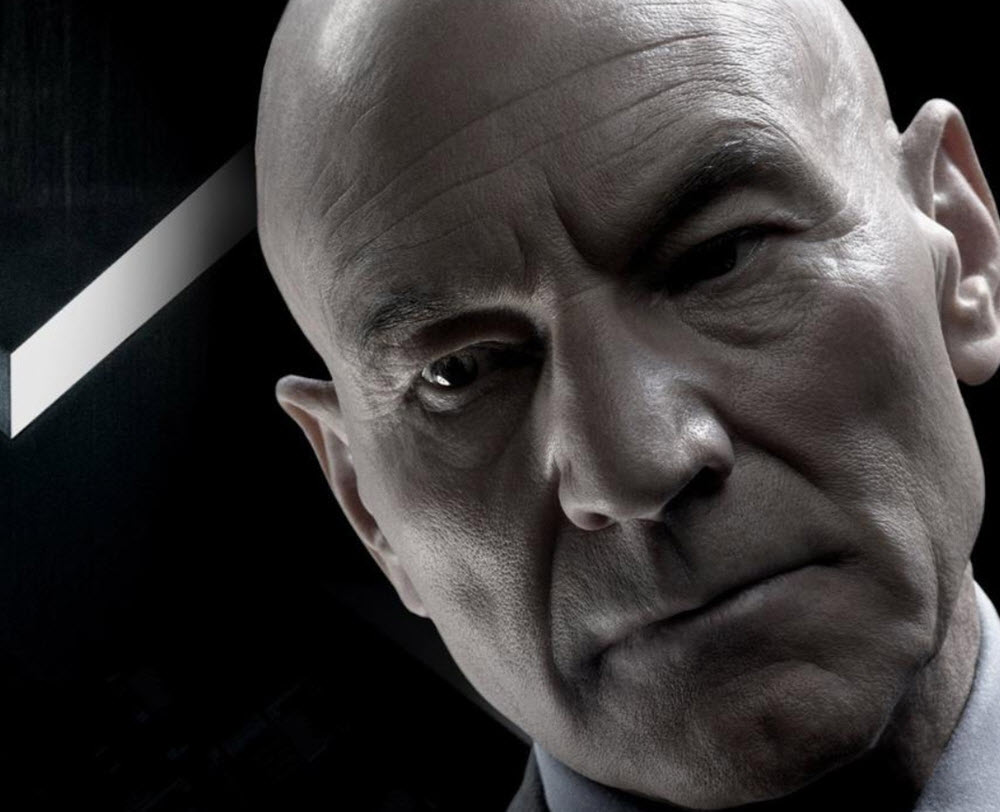 Professor Charles Francis Xavier is a character in the X-Men universe. He was created by writer Stan Lee and artist Jack Kirby, and made his first appearance in the magazine The X-Men #1, published by Marvel Comics in September 1963.
Patrick Stewart has portrayed Professor Xavier character in seven feature-length films:
X-Men
X2
X-Men: The Last Stand
X-Men Origins: Wolverine
X-Men: Days of Future Past
The Wolverine
Logan
A younger Professor Xavier is played by James McAvoy in the movies X-Men: First Class, X-Men: Apocalypse, X-Men: Days of Future Past, Deadpool 2, and Dark Phoenix. In X-Men: Days of Future Past, both Stewart and McAvoy appear as Professor Xavier in different time-periods.
In the third season of the television series Legion, the character Professor Xavier is played by Harry Lloyd.
Video games
Patrick Stewart has voiced Professor Xavier in three video games belonging to the X-Men franchise.
X-Men Legends
X-Men Legends II
X-Men: Next Dimension
Casting Patrick Stweart in the role
20th Century Fox obtained the necessary rights in the mid-1990s and Bryan Singer was hired to direct the first X-Men movie.Singer approach Patrick Stewart on the set of Conspiracy Theory (1997), a movie directed by X-Men Executive Producer Richard Donner, to discuss the possibility of Stewart playing Professor Xavier in the upcoming film.
The singer Michael Jackson actively campaigned to be cast as Professor Xavier, but the studio was not interested.
Professor Xavier in the seven movies featuring Stewart
X-Men
In this movie, we learn that Professor Xavier is the founder of X-Men and the Xavier School for Gifted Youngsters. He believes that mutants and non-mutant humans are able to coexist in peace.
His own mutan powers include vast telepathy, which he uses the supercomputer Cerebro to amplify. Through Cerebro, he can track and locate mutans across the world.
X2
In this movie, Colonel William Stryker leads an attack on Professor Xavier´s school. His goal is to use his own version of Cerebro to track down and murder every mutant. In order to force Xavier to help him, Stryker plans to utilize his own son Jason, who is a mutant with mind-controlling powers.
X-Men: The Last Stand
The plot largely revolves around a "mutant cure" and its repercussions for the mutant community, but the resurrection of Jean Grey is also an important aspect of the movie.
Patrick Stewart signed on to reprise his role as Professor Xavier without knowing that the character would be killed in this movie.
Special effects were used to carry out "digital skin-grafting" to rejuvenate the faces of Patrick Stewart and Ian McKellen for the opening flashback. These special effects were done by the Brother Strause´s Lola Visual Effects.
The movie recieved a lot of criticism for killing off major character, including Professor Xavier. The sequal X-Men: Days of Future Past is in a way a revision of these controversial decisions.
X-Men Origins: Wolverine
This movie is mostly about Wolverine, but a digitally rejuvenated Patrick Stewart does make an appearance as a fairly young Charles Xavier who can still walk.
The Wolverine
This movie is largely about Wolverine, but Patrick Stewart and Ian McKellen reprise their roles in appearances during the mid-credits scene, where Professor Xavier and Magneto warn Wolverine of a new threat. According to X-Men: Days of Future Past writers Bryan Singer and Simon Kinberg, this was a way of reintroducing Professor Xavier (who had previously been killed off) and set the stage for Days of Future Past.
X-Men: Days of Future Past
In X-Men: Days of Future Past, both Stewart and James McAvoy appear as Professor Xavier in different time-periods. Stewart plays the older version and McAvoy the younger.
The movie helps explain how the younger rage-filled Xavier developed into the pacifist Xavier we know from the previous X-Men films.
In 2012-2013, director Singer used Twitter to reveal when actors had been casted for the movie. In November 2012, he announced that James McAvoy, Michael Fassbender, Jennifer Lawrence and Nicholas Hoult had agreed to reprise their roles from X-Men: First Class, and that Patrick Stewart and Ian McKellen would reprise their respective roles as the older versions of the characters played by McAvoy and Fassbender.
Logan
This is the final movie in the Wolverine trilogy.
In this film, the X-Men are defunct and Charles Xavier´s abilities – including his telepathic abilities – have become unstable due to age (he is over 90 years old) and an unknown brain disease. At times, he doesn´t even recognize Logan, who cares for him together with Caliban. The movie explores what happens to mutants when their powers diminish by age.
According to a poll conducted by Fandango during the movie´s opening weekend, 96% of moviegoers said they were excited to see Hugh Jackman, 94% were intrigued to see Patrick Stewart reprising his role as Professor X, and 76% were interested in watching newcomer Dafne Keen.
For his performance in Logan, Stewart earned two awards:
An IGN Award in the category "Best Supporting Performer in a Movie"
A Saturn Award in the category "Best Supporting Actor"